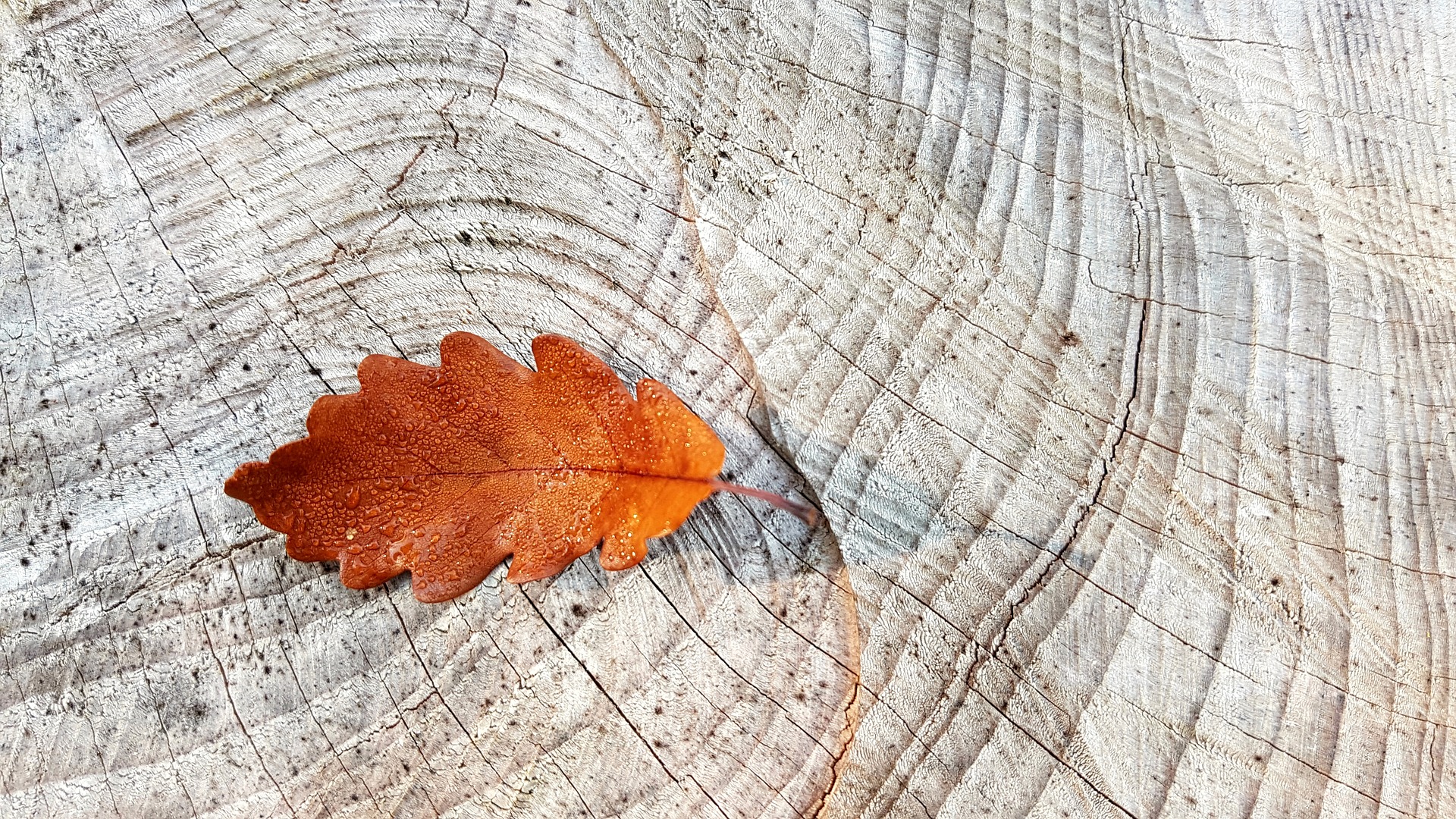 02 Nov

WOGA November Newsletter

How is it November?!?   Are you ready for the holiday season? (If you answered yes, I don't believe you!)

WOGA has had such a fantastic year (we'll do a re-cap in the December newsletter) and want to give thanks to all of our members, sponsors, supporters and participants that have made it possible!  Let's celebrate together and get excited for next year at the WOGA Holiday Party – see more information below.  There are a few more WOGA events this year, so make sure to get them on your calendar!

WOGA Membership Drive

You love WOGA!  We love WOGA!  Let's work together to expand our membership and give other women exposure to the great things WOGA has to offer:  Technical Luncheons, Networking, Fun and Educational Events (think Golf Clinic), Happy Hours, Holiday Parties . . . the list goes on and on.  For our October and November membership drive, we have a couple of special incentives:
Anyone that signs up to be a new member or renews an existing membership in October or November gets a free ticket to a Technical Luncheon or a Lean In Circle (Drop-In only).
If you are an existing member and recruit/refer a new member, you will also receive free ticket to a Technical Luncheon or a Lean In Circle (Drop-In only) for each person you refer that becomes a member.  If you recruit 3 or more people, you will also get a sweet WOGA bag loaded with goodies.  Just ensure that you or the new member emails info@wogacolorado.org to tell us that there was a referral.
Log-on to your WOGA account to renew or register as a new member here:  Become a Member
Technical Luncheon – November 13th – Last for 2017!!
It has been such a great year of Technical Luncheons!  A big thanks to Debi Roe, WOGA Treasurer, for organizing these great learning and networking opportunities.  We'll have plenty of interesting topics and speakers in 2018, but don't forget that we have one more excellent Technical Luncheon for 2017 . . .
Please join WOGA and Brooke Layman from McGhee Productivity Specialists for our last Technical Luncheon of 2017 on November 13th!
Take a journey to a place where you are calm and relaxed…
No, this isn't a presentation to sell you a vacation time share, this is a chance to discover tools that will help you find a sense of calm and focus while living in a world that is reacting to the dings and pings. Have you ever set a New Year's resolution that you weren't able to follow through on? Do you want to be able to manage the onslaught of emails, meetings and actual work that you have to get done? Learn how to set boundaries, identify what you can and can't control, and take home a few tips and tricks that will help you to begin to Take Back Your Life!
Space for this Technical Luncheon is limited so Register Now!  Bring your Brown Bag lunch – WOGA will provide water and cookies.
When:  Monday, November 13th
11:30am – 1pm
Where:  Republic Plaza – Training Room (Bottom Concourse)
370 17th Street
Denver, CO.  80202
Register here:  Productivity Solutions Technical Luncheon
Lean In Lunch
Join us for the next Lean In Lunch on Tuesday, November 14th!  The topic is Team Dynamics & Rethinking Time.  For more information, see our Event Calendar or Register Here: Lean In Circle Lunch
Lean In 2018!
WOGA has been asked to join the Global Lean In Energy chapter, continuing to encourage the related mission of empowering women to achieve their ambitions, and encouraging more female leaders in the energy business sector!
WOGA has had a successful year with our Leadership Lean In program and our generous host Sterling Energy will be continuing to support our monthly circle of women in 2018! The annual Lean In program will be focused on indispensable business skills: Communication, Management and Planning, Problem Solving, Networking and more!
Program Details:
Program begins January 8th, 2018 then proceeds every 2nd Tuesday each month from 11am – 12:30pm.
Location: 1200 17th Street, 2nd Floor Mt. Everest Conference Room (Denver CO)
There will be more information to come, including cost and how to connect via the Lean In Energy app!
WOGA Holiday Party
WOGA and sponsor Liberty Oilfield Resources would like to invite you to the WOGA Holiday Party!  Come and celebrate a wonderful year of WOGA with us!  Register now and get this great event that will also benefit the Weld County Food Bank on your calendar.  Your $20 ticket includes food and drinks.  Colleagues and spouses are welcome – this event is open to all WOGA member friends, women and men!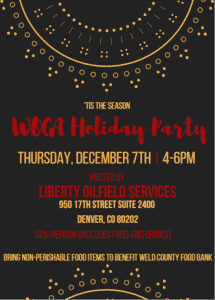 The party will be held December 7th at the Liberty offices, from 4-6pm.  Register here:  WOGA Holiday Party
2018 Corporate Sponsors
WOGA would like to invite your company to be a Corporate Sponsor for 2018!  Our corporate sponsors are critical to the WOGA mission of empowering the next generation of women leaders in the energy industry.  It's also a great opportunity to market your company!  Please see our website (Corporate Sponsorships)  or contact Erin Marquez at erin.marquez@wogacolorado.org for more information.