25 Jul

Dare to Lead!

Dear WOGA Members,

We are excited to let you know about this great, upcoming opportunity!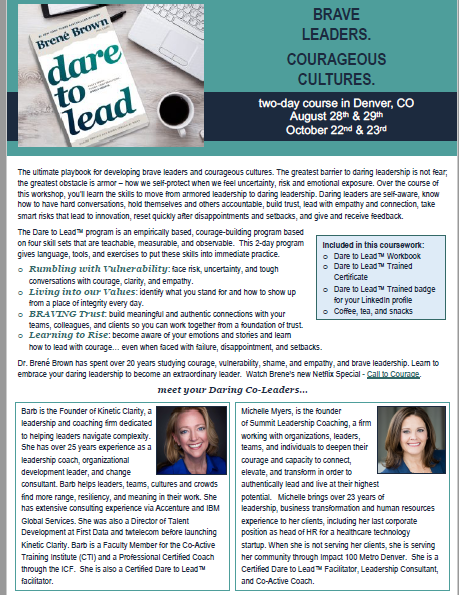 DATE: Wednesday, August 28th and Thursday, August 29th
or  Tuesday, October 22nd and Wednesday, October 23rd
TIME: 8:00 am-5:30 pm
VENUE: August event will be hosted at
DCP
370 17th Street
Floor 27th
Denver, CO  80202
Early Bird Price: $895 ($695 for WOGA) good through August 2nd .
Regular Price: $1195 ($995 for WOGA)
$200 Discount for WOGA Members – Discount Code: WOGA2019
REGISTER HERE: WOGA Members Register HERE
If you are excited to become a Brave Leader and would like to take this course, but the $695 is a personal financial hurdle you will not be able to overcome, please send us an email to info@wogacolorado.org and let us know the details of your situation.  We will review requests for financial assistance on a case by case basis.
 We believe the skillsets being taught are valuable and will help our members reach their highest potential and reach their goals.
Whether you are already a supervisor, or leading from any chair, these skills will help you in all aspects of your life.
 o Rumbling with Vulnerability face risk, uncertainty, and tough conversations with courage, clarity, and empathy.
o Living into our Values identify what you stand for and how to show up from a place of integrity every day.
o BRAVING Trust build meaningful and authentic connections with your teams, colleagues, and clients to work together from a foundation of trust.
o Learning to Rise become aware of your emotions and stories and learn how to lead with courage… even when faced with failure, disappointment, and setbacks.