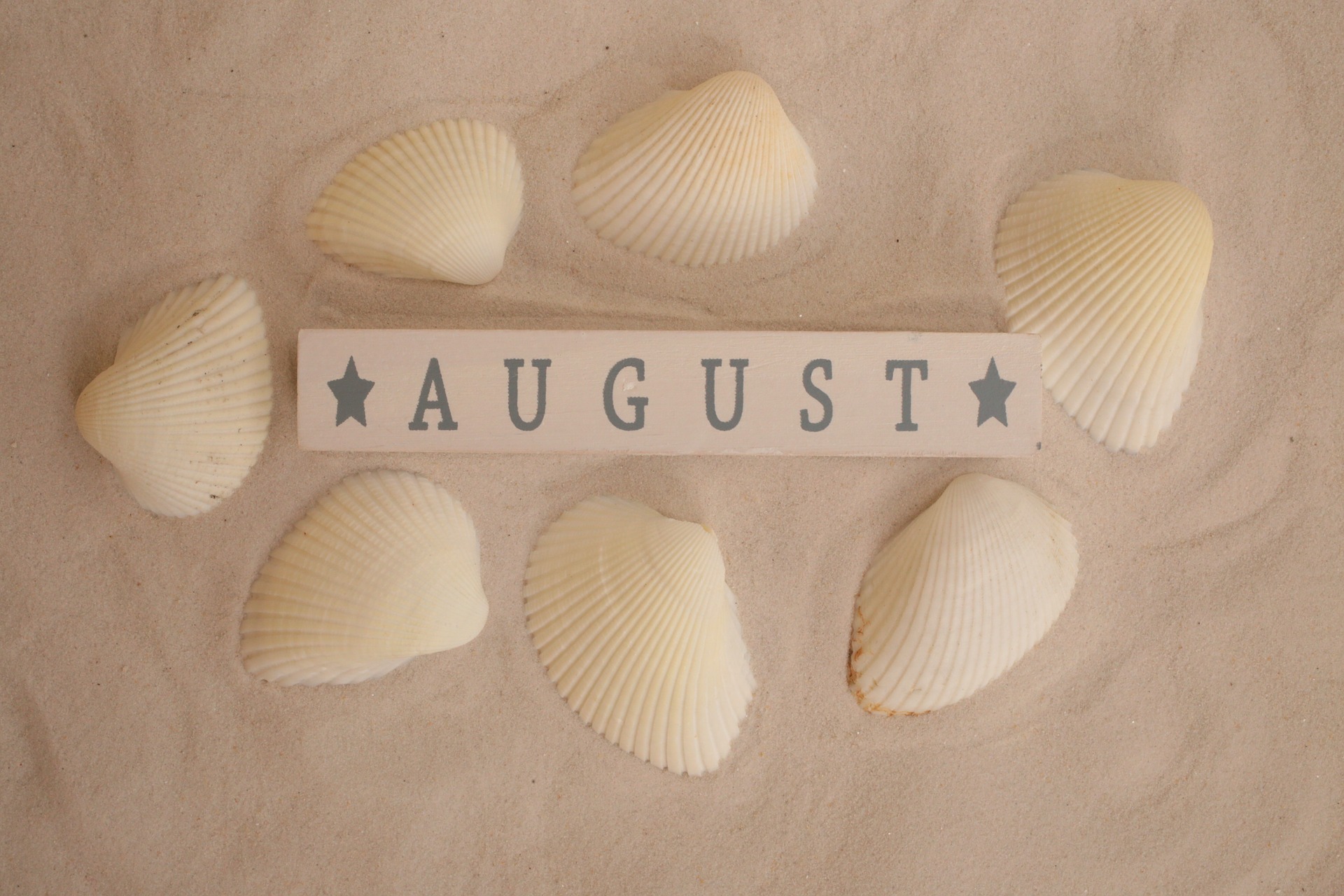 06 Aug

August 2019 Newsletter

Where has this year gone?? It has seemed to fly by and we are happy that we have spent it together. We have so many awesome upcoming events. We look forward to seeing you at each!
August Lean In Circle Lunch: Vision Board Check In
We will be having a Vision Board check-in session and discussion on establishing good habits. Those that attended in January are encouraged to sit with their vision board group and we'll talk through our progress on meeting our goals. In addition, we'll discuss the pros and cons of having habits and share what works for us.
DATE: Tuesday, August 13th
TIME: 11:00-12:30
VENUE: Sterling Energy Offices
1200 17th St 2nd Floor, Mt Evans Conference Room
Denver, CO. 80202
COST: $10 Member, $15 Non-member
Lunch is generously provided by Sterling Energy!
REGISTER HERE:  August Lean-In Lunch
August Technical Lunch: Land 101
Want to learn more about land, leases, and issues like spacing vs pooling?  And what does forced pooling actually mean? What about the various types of land/mineral ownership, federal vs fee lands or surface use agreements?  Join us and our speaker Lisa Hamil for a general overview of land and ownership issues, how leases are maintained and any other "burning" land questions you may have!
Lisa Hamil, CPL, has over 30 years of experience in the oil and gas industry in both land and land administration. She currently works for Anadarko Petroleum as a Senior Staff Landman in the DJ Basin. Having worked in the DJ Basin for more than 14 years, she has witnessed the rapid change in technology and the impact those changes have had on landowners and the surrounding communities. Lisa is the Founder and Partner in Energy360.us, a non-profit deigned to educate consumers about all forms of energy using an unbiased and well-researched approach and to help them understand, beyond power generation and transportation, the energy needed to power our everyday lives. She currently teaches the "Life Cycle of Oil and Natural Gas" Certificate Program through the Global Energy Management Program at the University of Colorado at Denver. Lisa is also a Board member of the Denver Petroleum Club, a member of the Denver Association of Petroleum Landmen, currently serving on their Education and Advocacy committee, and a member of the American Association of Petroleum Landmen, serving on their Education Committee. She is a recent graduate of Bighorn Leadership focused on energy policy in the State of Colorado and participated in Leadership Denver through the Denver Metro Chamber Leadership Foundation and graduated in June, 2019.
Please register ahead of time to ensure there is a proper headcount for lunch.  Drop-ins will be allowed if there is space and may pay at the event but are not guaranteed lunch.  
DATE: Wednesday, August 28th
TIME: 11:30-1:00
VENUE: Republic Plaza
370 17th St, Concourse Level
Denver CO 80202
COST: $10 Member, $15 Non-member
Lunch is generously provided by Merrill Lynch!
REGISTER HERE:  August Technical Lunch
Annual Sporting Clay Clinic
Never held a shotgun?  Ready to sharpen those shooting skills by shooting clay?  This sport can be intimidating for first timers – come get your feet wet with the WOGA ladies! Learn the basics and never again feel you have to miss out on participating in one of our industry's popular networking activities: clay shooting! Meet other WOGA members and enjoy being outside this fantastic time of year! This event is for beginners and advanced – there will be something for everyone!
DATE: Friday, August 23rd
TIME: 1:00-5:00 pm
VENUE: Family Shooting Center, Cherry Creek State Park
4201 South Parker Road
Aurora, CO 80014
Cost is only $40 for Members, $50 for Non-Members
Food and refreshments will be provided. All park entrance fees will be covered by WOGA!
REGISTER HERE: Sporting Clay Clinic Registration
If you have any questions, please contact Alex Sale at info@wogacolorado.org
Maximize Your Secret Weapon: Emotional Intelligence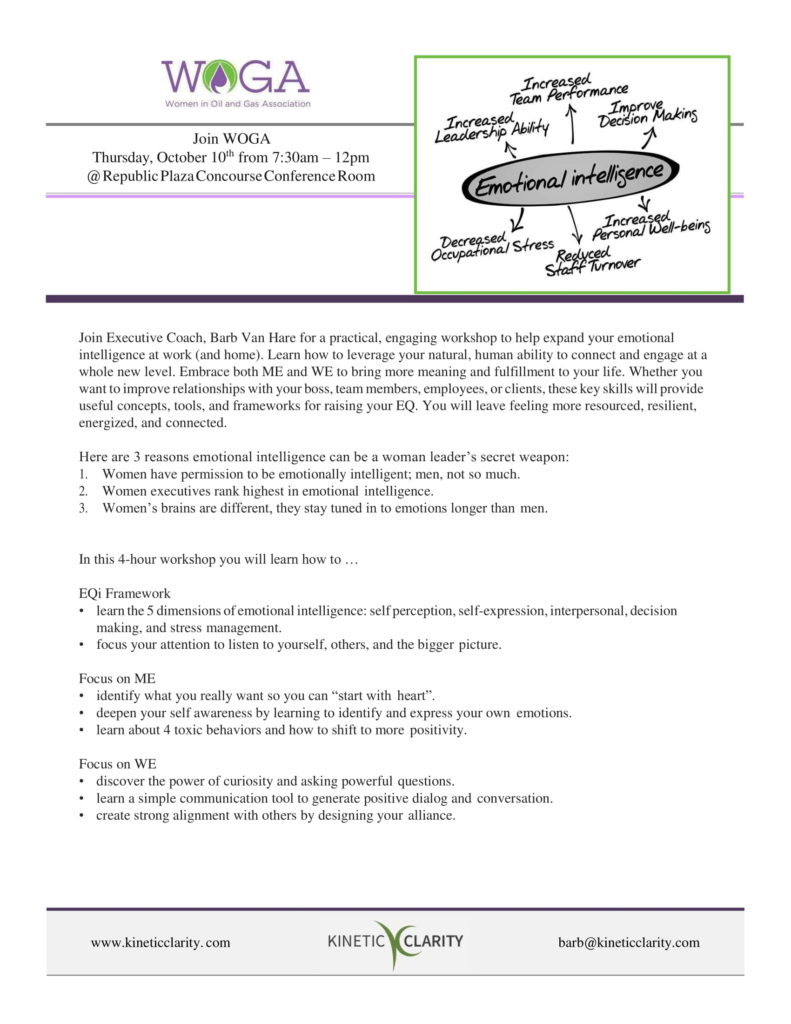 DATE: Thursday, October 10th
TIME: 7:30-12:00 pm
VENUE: Republic Plaza
370 17th St, Concourse Level
Denver CO 80202
Cost is only $75 for Members, $125 for Non-Members
Breakfast will be served at 7:30 and lunch at 12:00 pm. Sign up now on our website: Registration
As an added bonus!

Partner Events
We are excited to let you know about this great, upcoming opportunity!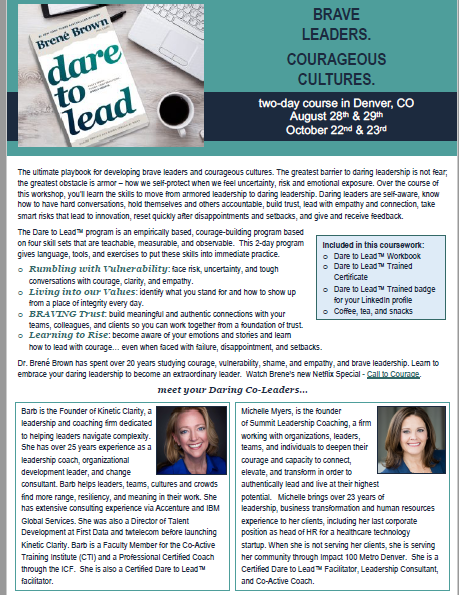 DATE: Wednesday, August 28th and Thursday, August 29th
or  Tuesday, October 22nd and Wednesday, October 23rd
TIME: 8:00 am-5:30 pm
VENUE: August event will be hosted at
DCP
370 17th Street
Floor 27th
Denver, CO  80202
Regular Price: $1195 ($995 for WOGA)
$200 Discount for WOGA Members – Discount Code: WOGA2019
REGISTER HERE: WOGA Members Register HERE
If you are excited to become a Brave Leader and would like to take this course, but the $995 is a personal financial hurdle you will not be able to overcome, please send us an email to info@wogacolorado.org and let us know the details of your situation.  We will review requests for financial assistance on a case by case basis.
 We believe the skillsets being taught are valuable and will help our members reach their highest potential and reach their goals.
Whether you are already a supervisor, or leading from any chair, these skills will help you in all aspects of your life.
 o Rumbling with Vulnerability face risk, uncertainty, and tough conversations with courage, clarity, and empathy.
o Living into our Values identify what you stand for and how to show up from a place of integrity every day.
o BRAVING Trust build meaningful and authentic connections with your teams, colleagues, and clients to work together from a foundation of trust.
o Learning to Rise become aware of your emotions and stories and learn how to lead with courage… even when faced with failure, disappointment, and setbacks.
Parting Thoughts
A woman's greatest enemy? A lack of time to herself. If what it takes to create are long stretches of time alone, that's something women have never had the luxury to expect. Click below to read this opinion piece.