06 Sep

WOGA September Newsletter

As we move into fall, life can seem to be overwhelming and crazy.  Events in the world (politics, weather!) can feel all consuming, especially when layered on top of work, kids going back to school, etc.  Take a few minutes for yourself this month to reflect on the seasons changing, the things in your life you're grateful for and what you are looking forward to in the future.  We hope that includes the WOGA Holiday Party (see below)!

Houston Disaster Relief

As we're all aware, Hurricane Harvey has caused incredible devastation in Texas and particularly the Houston area.  Houston is home to many of our friends, families and companies associated with the Oil and Gas industry.  WOGA would like to encourage you to donate to the relief efforts if you have not already.  Below are several options for donation.  #houstonstrong

Texas Diaper Bank – select "Disaster Relief" when applying your donation
https://texasdiaperbank.networkforgood.com/

WOGA Sporting Clays Clinic – Recap
The WOGA Sporting Clays Clinic was another great event!  The ladies fought through a windy afternoon to learn more about shooting a shotgun, shot placement and tracking the clays.  It was a fun and informative event!  If you attended, please feel free to send us your feedback on the event at info@wogacolorado.org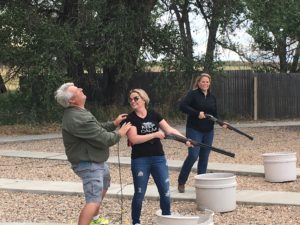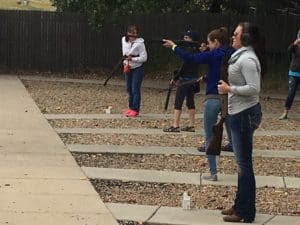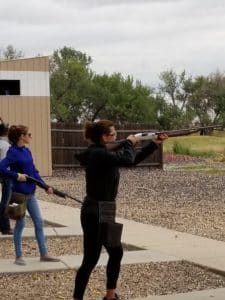 Thanks again to MMR for sponsoring this event! https://www.mmrgrp.com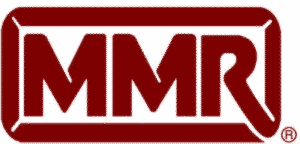 Lean In Lunch
Join us for the next Lean In Lunch on September 12th!  The topic is The Economics of Well-being.  For more information, see our Event Calendar or Register Here.  Lean In Circle Lunch
Updates to WOGA Board of Directors
Amy Fontenos is stepping down from the WOGA Board of Directors.  Amy joined the board in 2013 and WOGA would like to thank her for her dedicated service to the organization!
WOGA would like to welcome Lia Fields and Alex Sale to the Board of Directors.  Each is a great addition to the WOGA team and are excited to support the mission and goals of WOGA.  Look for each of them at upcoming WOGA events!
Lia Fields
Lia is a Completions Technician for Halcón Resources. She practices Brazilian Jiu-Jitsu, organizes events for three charities, and is currently remodeling her house. When she's not busy doing all those, she spends time with friends and takes the Jeep to the mountains as much as possible.  Lia has been participating in the WOGA Lean In Circle lunches and is excited to be more involved with WOGA.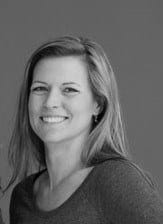 Alex Sale
Alex Sale has four years of experience in the oil and gas industry, focused specifically in Reservoir, Completion and Production Engineering and has been an active member of WOGA for the past few years.  Alex received a B.S. with Honors in Chemical Engineering from the Colorado School of Mines in 2013 and is currently the Director of Engineering at Eagle River Holdings, LLC, where she manages the valuation of oil and gas assets in all major US basins for Eagle River's marketing and transaction efforts.  Alex is passionate about motivating women to become fearless leaders and to inspire women new to the oil and gas industry.  She is honored to be a member of the WOGA Board of Directors and is excited to help bring women together within the oil and gas industry through WOGA.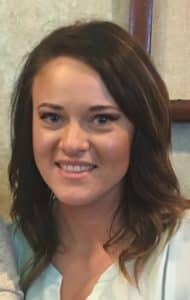 SAVE THE DATE!!
WOGA and sponsor Liberty Oilfield Resources would like to invite you to the WOGA Holiday Party.  Join us for delicious food, tasty beverages and general holiday cheer!  The party will be held December 7th at the Liberty offices, from 4-6pm.  Register here:  WOGA Holiday Party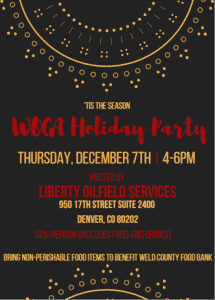 Industry Events
COGA
Look for these upcoming September events sponsored by the Colorado Oil & Gas Association.  You can register via the links below:
A Luncheon with author Robert Bryce
Thursday, September 7th at 12pm
https://www.coga.org/events/luncheon-robert-bryce/
Lunch & Learn: Oxygen Removal & Oil Tank Vapor Recovery
Tuesday, September 19th at 11:30am
https://www.coga.org/events/ecovapor/
Frac Sand Conference
Join Anna Thauberger, WOGA Secretary, at the Industrial Minerals Frac Sand Conference coming up in September.  WOGA members receive a 15% discount on registration and you may even qualify to attend for free!  Learn more and register here:  https://www.indmin.com/events/frac-sands-conference/details.html