02 Jan

WOGA January Newsletter
Lean In 2023: Modeling Change & Shifting Culture
WOGA Lean In Director, Kat Mann, has put together another speaker lineup for 2023 that is sure to give one goosebumps. Our luncheons have been so successful and well-received in their alternating in-person and virtual format that we are keeping with that again this year. Our in-person and virtual options allow Kat to source speakers from across the the country to speak to our members, while the in-person events create the ever-important opportunity to build connections and friendships.
Check out the WOGA Lean In speakers for 2023!
January 19 – Kym Alim – Virtual
February 16 – Jackie Schirmer – In person
March 16 – Umadevi Gopaldass – Virtual
April 20 – Melissa Wood – In person
May 18 – Abby Rimel – Virtual
June 15 – Maureen Evenson – In person
July 20 – Crusoe Crew – Virtual
August 17 – Lia Fields – In person
September 21 – Lisa Sakai – Virtual
October 19 – Danielle Cook – In person
November 16 – Natalie Fairchild – Virtual
December 21 – Book Club – In person
Annual Lean In membership and the single January event registration are both open.
Please note, we are alternating between In Person and Virtual each month, so please only sign up for the Annual Lean In membership if you can attend both.
Lean In January 2023: Diversify the Energy Workforce
Please join us on Thursday, January 19th, for our first Lean In of the year. Our virtual speaker is Diversity Equity and Inclusion Consultant, Kym Ali.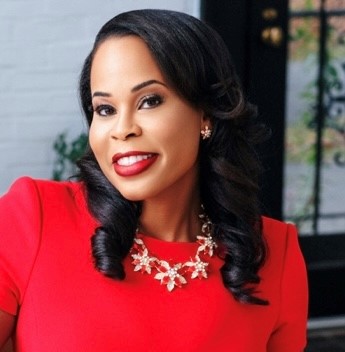 Kym Ali is a Registered Nurse who spent time abroad traveling the world while developing her professional career in the Middle East, until she tragically lost her job to systemic racism and had to relocate back to the States. Two weeks after returning home, her niece passed away at college.
"The stress took a toll on me. Two days after my niece passed away, I had a heart attack in my thirties."
Kym knew she had to stop being strong, like so many women of color do, and take care of her physical and mental health.
After several unsuccessful therapy sessions, Kym knew she had to take matters into her own hands.
Kym began to heal herself by becoming a mental health coach and certified in diversity, equity and inclusion in the workplace. Now, she's back to living her best life.
Kym now empowers leaders in the energy industry to recruit and retain a diverse workforce to meet the 2050 NetZero goal. Her proprietary framework saved one organization over $9.5 million in turnover cost.
Her work has been featured on PIX 11NYC News, Newsy, Voice of America and Ebony Magazine. She is the co-author of a #1 Amazon New Release under Business Conflict and Resolution.
Venue: Zoom Video Meeting
Starts: Thu, Jan 19 2023, 11:00 am MST
Ends: Thu, Jan 19 2023, 12:30 pm MST
Starting 2023 on a Good Foot
Whether you're on Team Resolution or Team No Resolution, here are a couple of free classes for you to check out to make the most of 2023.
Managing Happiness – Harvard University free, 6-week, self-paced course
Managing Happiness encourages you to explore the science of happiness, allowing you to find your truest self. Through cutting-edge survey tools, the best research, and trends in social science, positive psychology, neuroscience, and philosophy, learners unlock the strategies to create a more purposeful life, full of long-lasting enjoyment and satisfaction.
The Science of Well-Being – Yale University free, 10-week course
In this course you will engage in a series of challenges designed to increase your own happiness and build more productive habits. As preparation for these tasks, Professor Laurie Santos reveals misconceptions about happiness, annoying features of the mind that lead us to think the way we do, and the research that can help us change. You will ultimately be prepared to successfully incorporate a specific wellness activity into your life.
Your WOGA Board for 2023
I am excited to go into 2023 with this amazing Board! Please reach out to any of these powerful women if you are new to the industry and want to grab lunch, are interested in making a new connection with someone in a different part of the industry, want to present at a Technical luncheon, curious about our sponsorship benefits or interested in joining us on the Board. We want to hear from you. Let's get to know each other in 2023!
"There's power in allowing yourself to be known and heard, in owning your unique story, in using your authentic voice. And there's grace in being willing to know and hear others." Michelle Obama