07 Nov

Upcoming Events
November Lean In Circle Lunch: The Art of Saying No
We'll discuss When you should say No, How to say No, help you determine Why you should or shouldn't say No and how to ask questions so you know What you're saying No to. We'll discuss different techniques, share our experiences and lessons-learned.
DATE: Tuesday, November 12th 
TIME: 11:00-12:30
VENUE: Sterling Energy Offices
1200 17th St 2nd Floor, Mt Evans Conference Room
Denver, CO. 80202
COST: $10 Member, $15 Non-member
Lunch is generously provided by Sterling Energy!
REGISTER HERE:  November Lean-In Lunch
November Technical Lunch: Overview on Gas Processing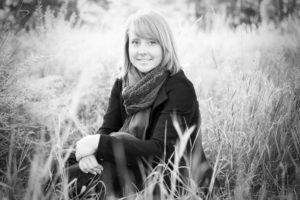 We are excited to have Jesica Ryczko as our November Technical Lunch speaker.  Jesica will be discussing Glycol dehydration at the field level, and then mol sieve, cryo, and amine processing at the facility level.
Jesica Ryczko is a progressive, results-driven leader with 8+ years of proven performance in engineering and business. Currently, as a Reliability Engineer and Program Manager at DCP Midstream, she manages large scale maintenance and optimization projects across the company. Prior she spent 3 years in consulting in Upstream and Midstream O&G and 2.5 years as a Project Engineer in the chemical manufacturing industry in Houston. All of the positions have required a strong ability to influence without authority. She has experience working with C-Suite, executive level leaders, and Clients across various industries including Oil and Gas (O&G), Chemicals, and Consumer Products.
Outside of her professional life her biggest passions are travel and exploration. She has been to 30 countries and 39 US states with a focus on adventure travel. Some of her favorite experiences have been scuba diving in the Red Sea, exploring the Valley of the Kings in Egypt, exploring temples in Myanmar, living with a local family in the heart of the Amazon in Brazil, caving in the Son Dong Cave in Vietnam, and trekking through Patagonia. Solo travel has exposed her to new cultures and diverse ways of thinking, which she applies every day at work and outside.
Please register ahead of time to ensure there is a proper headcount for lunch.  Drop-ins will be allowed if there is space and may pay at the event but are not guaranteed lunch.  
DATE: Wednesday, November 20th
TIME: 11:30-1:00
VENUE: Republic Plaza
370 17th St, Concourse Level
Denver CO 80202
COST: $10 Member, $15 Non-member
Lunch is generously provided by Merrill Lynch!
REGISTER HERE:  November Technical Lunch
Register Now and Get the WOGA HOLIDAY PARTY on Your Calendar!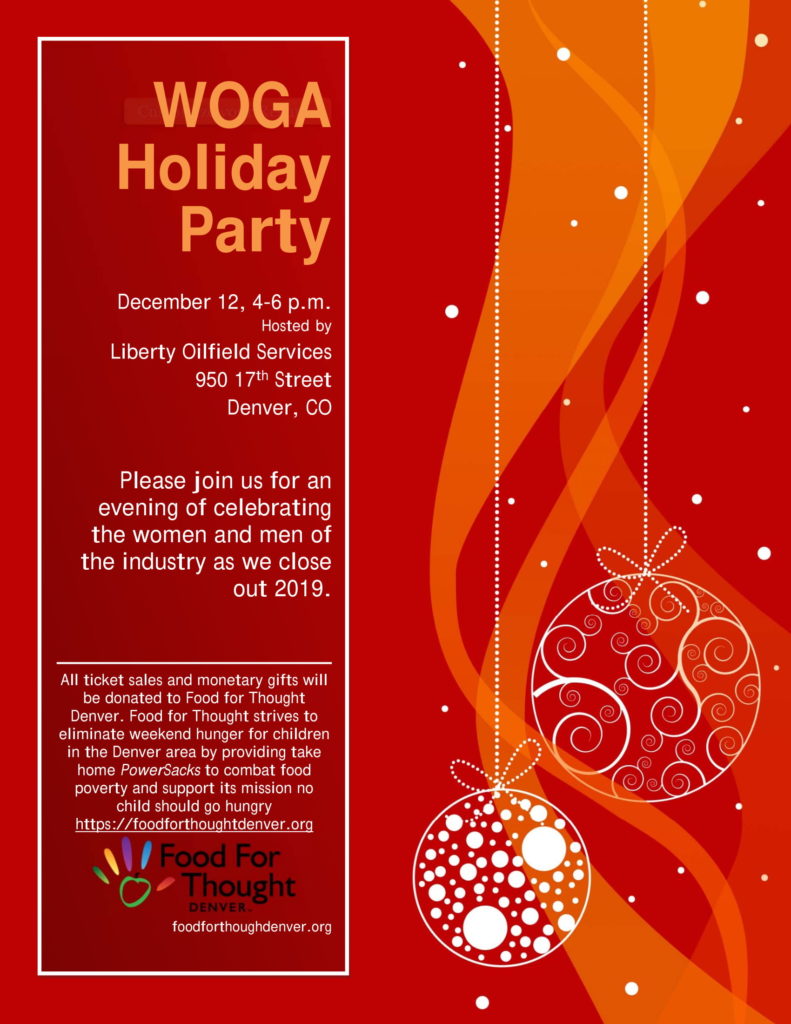 The WOGA Holiday Party will be December 12th and will be generously hosted again this year by Liberty Oilfield Services.  This event is open to women and men – we can't wait to celebrate the fantastic year of education, networking and fun that WOGA brought to it's members in 2019!
REGISTER HERE:  WOGA 2019 Holiday Party
Partner Events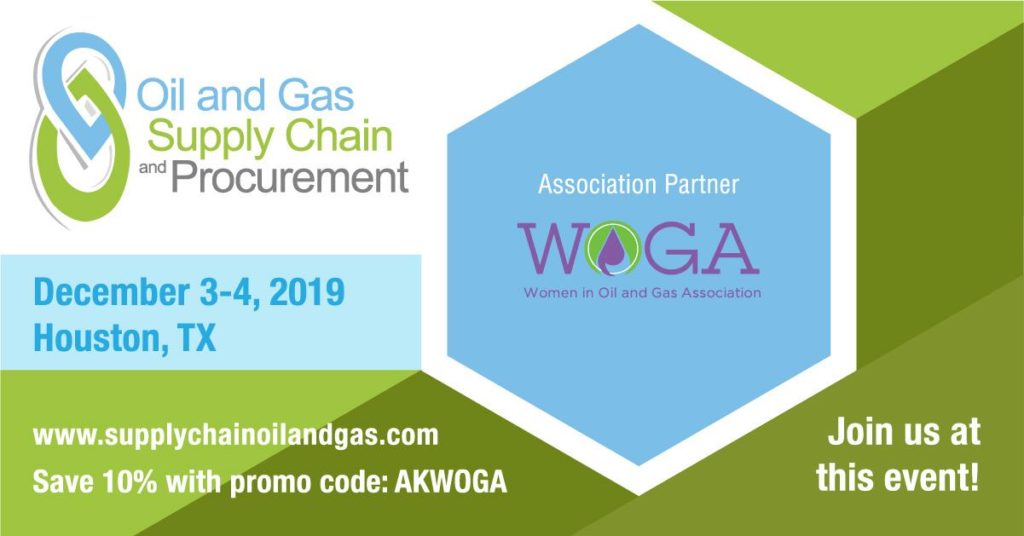 Register here!

YOU'RE INVITED
2019 Denver Petroleum Data Symposium
"Does Your Data Fuel Value?"
November 13, 2019 – Occidental Petroleum (formerly Anadarko Petroleum)
Why You Should Attend
The agenda for the 2019 Denver Petroleum Data Symposium is filled with great presentations on a variety of data related topic. The common theme for the full day is "Does Your Data Fuel Value?"  The agenda is now available and features great presentations including our Keynote "Dreaming of AI? Start With Fundamental Analytics" by Kentaro Kawamori, "Gas Production Prediction Using Machine Learning" with Tania Mukherjee, "Anadarko Core Store – Corporate Core Data Repository" with James Miller, and our Panel Discussion "Proving Value From Data Transformation."
How to Register
Save your spot by registering on our website. Thanks to our wonderful sponsors, registration starts at only $100USD for members. This includes the full day of presentations, all snacks and meals, and our happy hour in a friendly networking environment. Discounts are available for groups of 5 or more, please contact us to get your discount code.
Become a Sponsor
We are still seeking additional sponsors for this event. Make sure your company is seen supporting the data management community in Denver, and enjoy benefits such as registration discounts, access to contact lists and more.  Please visit our website to obtain the Sponsorship Kit – the deadline for sponsorship is October 11, 2019.
Public Training
PPDM will be offering Public Training the day after this event for those interested in our NEW 'What Is A Completion' class. More information is available on our website. This training is NOT included as a part of the Workshop and requires separate registration.