Hi WOGA members!! Glad we have been able to get through this year together. You made it possible!
As we look towards 2021, there are some great events in January! Read on to learn more!
2021 LEAN IN
We are excited to announce our 2021 program!  We have a list of  extraordinary Speakers this year:
CC Sutton, International Work-Life Performance Expert & Speaker
Leah (Russo) Kasparek, SVP HR & Administration at Battalion Oil Corporation, Former Executive Board Member of WEN Houston
Kat Mann, Account Manager at Enerflex Energy Systems, Longtime WOGA Member and Lean In speaker
Jennifer Schaufele, Former Executive Director for the Denver Regional Council of Governments (DRCOG)
Jamie Dandar McKinney, "Staying Empowered Through Challenges" KeynoteSpeaker, Leadership Coach, Author of "Speak Up, Sister!", WOGA Board Member and Lean In speaker

They will be discussing these topics:
Combating Burnout with Self-care for Sanity & Success
Nonverbal communication in a video conferencing era
Navigating workplace culture – the "unwritten rules"
How to run productive, effective and efficient meetings
The importance of watercooler relationship-building
Get Ready for Constructive Feedback/Having Hard Conversations. Why is good, constructive feedback necessary for growth? How to encourage and acquire the feedback you need to grow
Email Like a boss and powerful communication even outside of email
Negotiation
Recognizing bias in conversations – gender, regional, racial
When and how to respectfully jump the chain of command
Creating efficient emails, and tips on quickly reading emails for comprehension
Presentations and public speaking
January Lean In: Combating Burnout with Self-care for Sanity & Success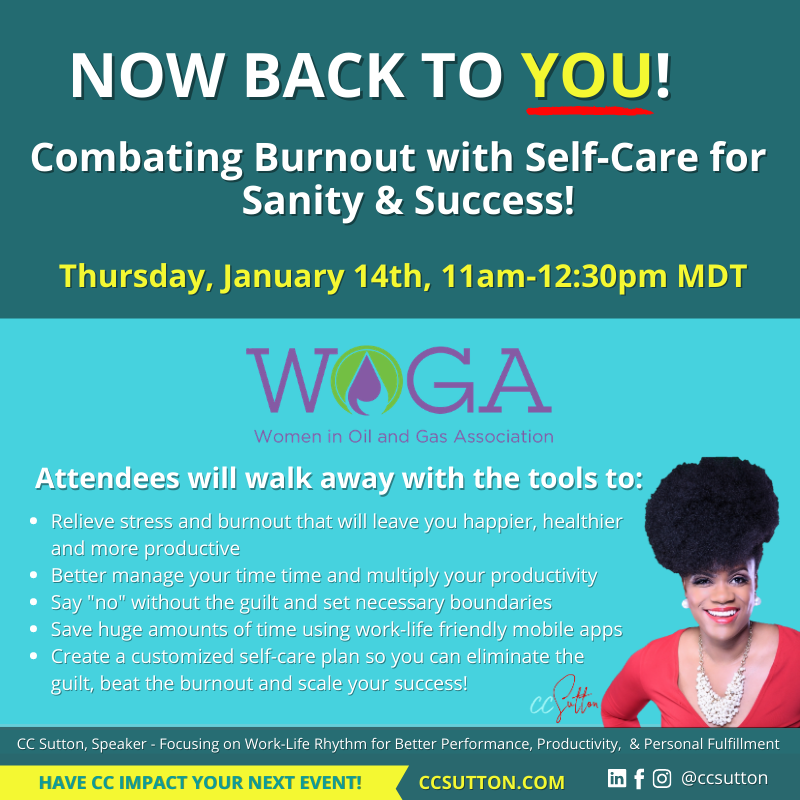 DATE: Thursday, January 14th
TIME: 11:30-1:00
VENUE: Virtual – Zoom Meeting
COST: $10 Member, $15 Non-member
Please note all attendees will get a meeting registration invite prior to the event. 
REGISTER HERE:  January Lean In
Partner Events

REGISTER HERE: January Rockies MIT