11 Dec

It's not too late!
See you at our HOLIDAY PARTY !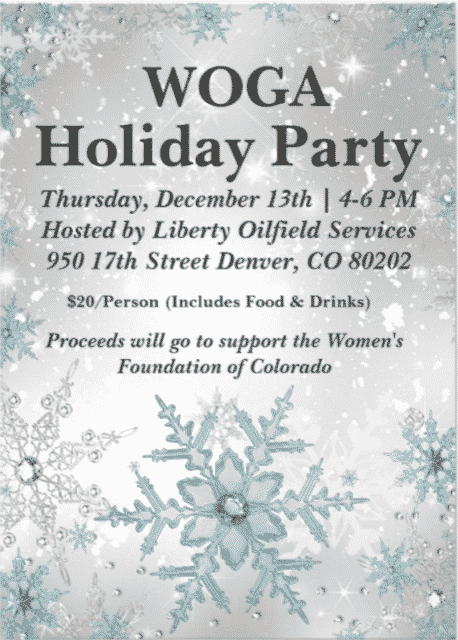 The WOGA Holiday Party will be December 13th and will be generously hosted again this year by Liberty Oilfield Services.  This event is open to women and men – we can't wait to celebrate the fantastic year of education, networking and fun that WOGA brought to it's members in 2018!
REGISTER HERE:  WOGA 2018 Holiday Party
Member Survey!
Have you taken our survey yet?  Please spend 5 minutes filling it out now! CLICK HERE
We will also send out a separate email from surveymonkey.com, so be sure to check your spam filters so you don't miss it.
We can't wait to hear your thoughts and ideas for 2019!
Lean In Program 2019
Annual Program Registration for 2019 is officially opened!! WOGA presents an energizing Lean In Annual Program on topics of work life balance. Our Lean In circle is scheduled to meet monthly on the second Tuesday of each month for the duration of 1.5 hours. Each session provides both individual reflection and group dialogues.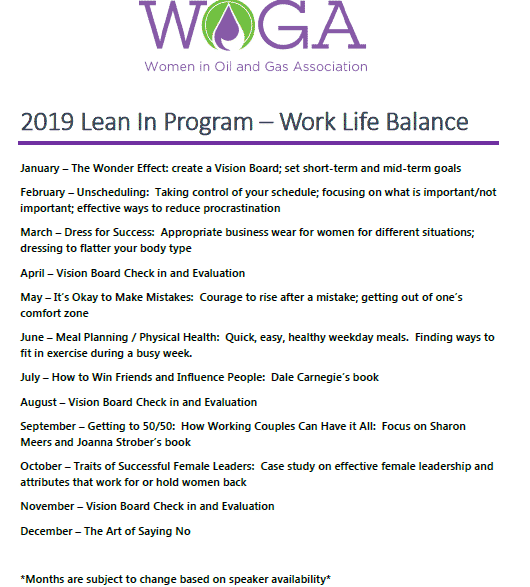 Annual Member Benefits:
You receive a book if you attend 10+ sessions
Certificate of Completion if you attend 10+ sessions
Magnetic nametag w/ WOGA/Lean In branding
Reserved registration for each session
Purple Binder for your items
Drop-in Attendees:
Monthly Lean In registration will open 1 month before
You receive a book if you attend 10+ sessions
Certificate of Completion if you attend 10+ sessions
If you choose to sign-up for the entire year, you can secure your spot at every circle today.
REGISTER HERE: Lean In Annual Membership