19 Sep

WOGA Upcoming Events

Hi Ladies and Happy Monday! The weather is cooling down and events are ramping up. Keep reading to see all the great events coming up!

.
LEAN IN OCTOBER 2022: Showing Up With Intention
.
Have you ever struggled with being perceived differently than you intended? Are you trying to shift how you show up after doing some work on your purpose or your why? Do you struggle with a coworker that you just don't jive with? Join us for an interactive discussion on a mindset about how to show up at work. We will then build upon the concept to help with how to better communicate feedback with others. (Wondering how these are related? Come find out!) In this session, you will identify small actions you can begin immediately and will walk away with a tool to effectively deliver feedback. 
.
Sarah Bartlett is the President of Potential Energy Consulting. She is a career and leadership coach who partners with individuals and companies to tap into their potential, exceed their career goals, and grow. Her experience leading teams, projects, and initiatives helps professionals accelerate with intention. After more than a decade of leading teams in the energy industry, Sarah realized her true passion is people. Combining her engineering degrees from the Colorado School of Mines with her professional and technical experience, she is uniquely equipped to navigate the complexities of the industry and develop the people, teams, and initiatives within it.
Sarah's accomplishments range from raising two adorable four-legged children to being the Colorado Oil and Gas Association's inaugural Emerging Leader, as well as being recognized as one of the Denver Business Journal's 2016 Top Women in Energy.
.
Venue
Denver Earth Resources Library Meeting
Address
730 17th St B-1
Denver CO 80202, US
Starts
Thu Oct 13 2022, 11:00am MST
Ends
Thu Oct 13 2022, 12:30pm MST
.
.
INDUSTRY EVENTS
.
YPE September Happy Hour + Free Headshots
.
Young Professionals in Energy are hosting a Happy Hour where you can also get your headshot taken for free.
This happy hour is sponsored by Energera! Energera is innovating energy tech solutions to solve some of the biggest problems the energy industry is currently facing.
Vanessa Martinez-Brown is a marketing professional with four years of experience in the AEC industry, having primarily served the environment and transportation sectors. In her spare time, she offers photography services to clients seeking lifestyle and family portraits. She also offers professional headshots and resume support to help others further develop/grow their careers.
Where: Number 38, 3560 Chestnut Pl, Denver, CO 80216 United States
Date: Thursday, September 29, 2022
Time: 5:00 pm – 7:00 pm
.
.
STEMblazers Mocktail Social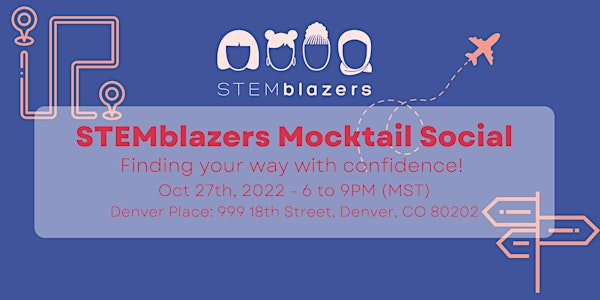 .
Join us for an empowering evening!
We are excited to feature Jamie Dandar McKinney, Best-Selling author of Speak Up, Sister! The Professional Woman's Guide to Confidence and Success. She is the President of Jamie Empowers, Inc., inspiring and empowering women to ditch doubts, speak up and achieve the careers they deserve and desire. Attendees will learn tools proven to elevate essential skills, and build confidence. Jamie will inspire and leave us with direction to take action so we can Find our Way with Confidence!
The Mocktail Social is our signature event that brings together students and young women with incredible trailblazing women working in STEM fields….that's YOU! This unique event features networking activities to connect the next generation with role models right here in their own community. When you engage in conversations and share your experiences, you invite young women to establish a network, learn new skills and explore new opportunities.
Tickets are $30. Host a student for $20!
Attire is Business Casual
.
.
MAKE IT A GREAT DAY!